WESMAR Bow Thrusters Keep Their Customers Happy.
YB Normal Sportfishing Charter Boat in the heart of Fort Lauderdale Beach talks about WESMAR thrusters...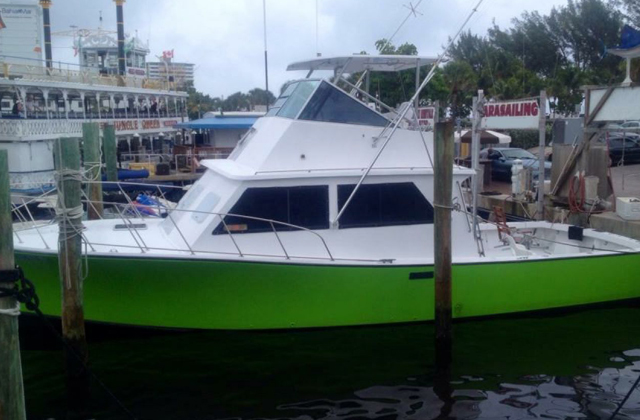 "The WESMAR thruster works really well. It turns the boat on a dime," says Wylie Sacks of Pembroke Pines, Florida, who with his son, 'Vinnie,' a 100-ton licensed captain, operates a charter boat out of Ft. Lauderdale, Florida. They installed a WESMAR Model V2-10m 13 hp thruster on their 43-foot Torres the YB NORMAL
"Our customers fish for tuna, dolphin, kingfish, swordfish, tilefish, and more," said Captain Sacks. This is a heavy, 20-ton boat with a 16-foot beam, so we use the WESMAR thruster for docking, anchoring, and maneuvering in and around other boats in high winds and heavy currents. It has a lot of power. When we hit it, I can almost surf off the wake. We fish in the ocean, where we face 20-knot winds at times, which makes the thruster so important. Without it, it is very difficult to dock in windy conditions."
"We deal with a lot of currents; our customers are frequently at hotels on the water, which requires maneuvering in and around other boats, usually in very tight situations, to pick them up. The bow thruster is protection for avoiding hitting other boats and providing safety for our customers."
"The WESMAR thruster is wonderful for holding position, particularly when we travel the intercoastal and when we are in and out of Port Everglades, often in heavy current to pick up customers."
Wylie Sacks said he made his decision to buy the WESMAR brand based on its reputation for quality and the space available on his boat. "Yacht Equipment and Parts (Y.E.P.) also recommended it, and it works really well, even better than I expected," he said. "We were very pleased with the work YEP did to install the thruster and for their exceptional customer service."
The YB NORMAL has accommodations for 6 people. It's a heavy boat built in 1985. The wide beam easily accommodates numerous anglers and guests, has abundant storage for rods and equipment and is comfortable for cruising and as a live aboard.
At the cabin entrance, on both sides of the sliding glass doors, there's easy access to the engine compartment. Moving forward to starboard is one of the tackle centers and one of two chest freezers, to port is cabinet storage and the other chest freezer, followed by the full galley, and to starboard is a large dinette with bench seating. Moving forward, step down to port and starboard over under bunks and the head with shower in the bow.