US Fish & Wildlife Use WESMAR Bow Thrusters
R/V SPENCER F. BAIRD is the only hatchery fish distribution vessel in operation in Wisconsin and Michigan...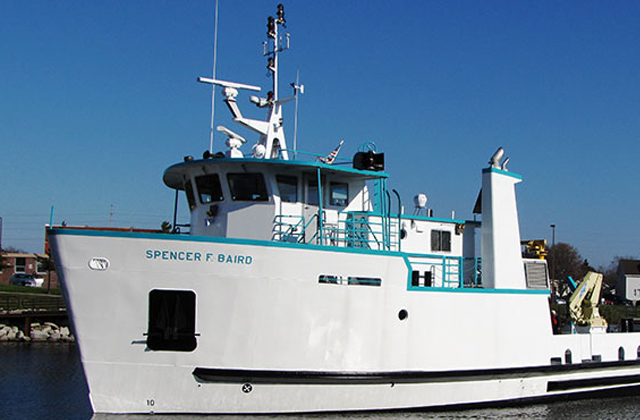 With over 90 science vessels on the Great Lakes, the R/V SPENCER F. BAIRD is the onlyhatchery fish distribution vessel in operation, distributing fish reared at the Fish and Wildlife Service's Iron River National Fish Hatchery in Wisconsin and Pendills Creek and Jordan River national fish hatcheries in Michigan.
Work boats around the world and the shipyards that build and maintain them have for years selected the powerful and rugged, all stainless steel, dual prop counter rotating bow thrusters, designed and built by WESMAR, the leading US marine electronics company.
The 95-foot Research Vessel SPENCER F. BAIRD, in service since 2006, is no exception. The US Fish and Wildlife Service selected a WESMAR V2-34 hydraulic bow thruster during a recent overhaul.
The SPENCER F. BAIRD is a research vessel onan important mission: to stock fish and conductpopulation assessments on Lakes Huron andMichigan. The work is part of a four-decade effort bythe US Fish and Wildlife Service to restore depleted lake trout populations in the US Great Lakes.
After five years of demanding service the vesselrecently underwent an overhaul that included complete exterior repainting, the WESMAR bowthruster installation, its five-year survey, and othermiscellaneous maintenance. The contract was awarded to Great Lakes Shipyard in Cleveland, Ohio, a highly respected, full service yard, that recently underwent an expansion and overhaul itself. The result is quite impressive.
Among the shipyard's capabilities are its new vessel and barge construction, fabrication, maintenance and repairs in a very modern facility that includes a 770-tonmobile Travelift and a 300-ton floating drydock.
The facility includes several thousands more feet in two locations on the nearby Cuyahoga River. The R/V SPENCER F. BAIRD project has now been completed and the vessel is back with the U.S. Fish and Wildlife Service.
The vessel's Captain David L. Bohn reported he had not had much of a chance to use the new WESMAR thruster due to winter layup until April 1 (dependingon the weather) but that his first impression is thatthe WESMAR Thruster seems to be in line with their expectations.
"I normally use the thruster for docking and maneuvering in tight places but we do have it available and standing by when we are working nets, should the need arise. I am looking forward to giving it a good trial this season," said Captain Bohn.
Bob Sentz Vice President at WESMAR says "WESMAR thrusters are on work boats around the world. Generally they are used for maneuvering around crowded marinas and other moorages, and as added safety for boats and crews during docking, holding tight during loading and
Great Lakes Shipyard is a full- service state-of-the-art facility specializing in every kind of marine construction, fabrication, and repair for all types of commercial and government vessels and barges as well as both on-site and off-site topside work, winter work, and emergency repairs of every kind. The Company recently completed construction of a new state-of-the-art 11,000 square foot maintenance, repair and fabrication building, which allows for substantial work to be completed indoors. The Company's shipyard improvement program includes new facilities for steel fabrication and new vessel construction.
WESMAR the leading marine electronics company in the US pioneered the development of the dual prop, counter rotating, all stainless steel bow thruster to help captains of expensive yachts protect their investment by adding control to docking. It morphed into a huge need for commercial vessels around the globe and today more WESMAR thrusters are found on boats than any other brand.