WESMAR Thrusters Help Keep San Francisco Bay Safe
M/V John A. B. Dillard Jr's special maneuverability comes from two WESMAR dual propeller bow thrusters...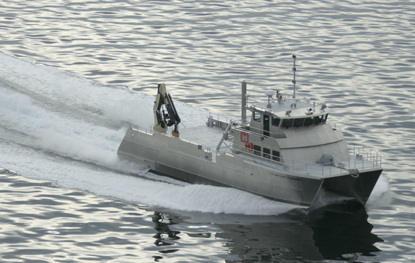 The risk of serious danger to marine traffic from debrisin San Francisco Bay has been greatly reduced thanks to an 87-foot state-of-the-art debris removal vessel with special maneuvering ability.
The M/V John A. B. Dillard Jr., equipped with two 1,450 HP engines, is capable of traveling at 32 mph, almost three times faster than the other vessels in the fleet, but it's special maneuverability comes from two WESMAR dual propeller bow thrusters, which allow it to maneuver in turbulent weather, in close quarters, and hold to position for quicker, safer recovery operations.
The Dillard, owned by the US Army Corps of Engineer's, is a multi command catamaran and the first vessel built specifically for the Corps' San Francisco Division. Instead of having to tow debris for disposal like the older boats of the fleet, the new boat can pick it up with a pedestal mounted, knuckle-boom grapple crane, drop it on the deck and quickly carry it to shore for disposal. Key to the process are the WESMAR V2-12E bow thrusters.
WESMAR thrusters are well known for their ability to snug up close to docks, to hold position and to maneuver in close quarters during such operations.
The Dillard was an $8.5 million dollar investment, the hull design is from Incat Crowther Ltd of Australia and M/V John A. B. Dillard Jr builder was Kvichak Marine Industries, Kent, WA. It is the first vessel built for the Corps' San Francisco Division in more than a half-century. Named in honor of a World War II and Vietnam veteran killed in action, the Dillard will serve as a command center in emergencies for debris removal, dive operations and hydro-surveying.
An historic event created the debris removal program in San Francisco Bay, which has been in place for 70 years. In 1942 Admiral Chester Nimitz, Commander-in-Chief of the Pacific Fleet was on board a seaplane that struck floating debris when landing in San Francisco Bay. The bottom of the aircraft was ripped open and it capsized. Admiral Nimitz survived, but the pilot was killed.
That incident led to the SF District Corps of Engineers settingup a floating debris hazard collection program in the Bay, andduring World War II small tugs with crews of both civilian andnavy enlisted men patrolled the Bay daily collecting floating hazards and towing them to a disposal site at the Alameda Naval Air Station. In the years since, as traffic has increased and technology has advanced, the Corps has struggled to keep up with its mission with two converted WW II vintage aircraft recovery vessels modified to meet their hazard collection mission, a 100-foot catamaran Raccoon and a 50-foot tugboat Grizzly.