Equipped for cruising in all types of waters
OffSchorr travels Alaskan waters and the blue waters of Mexico, in comfort and safety, thanks to her WESMAR products...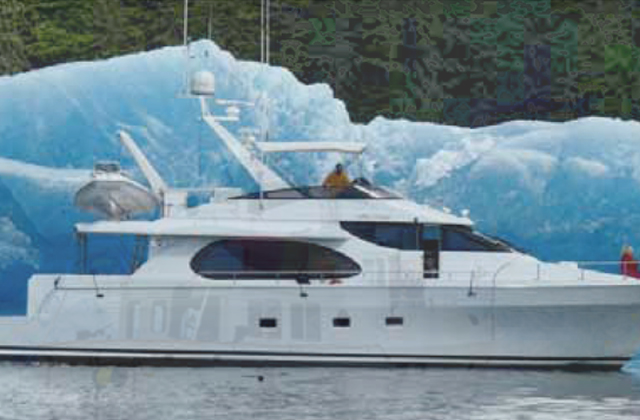 Captain Martin Schorr holds a 100-ton Masters license and has been boating for years. So when he commissioned his beautiful 70-foot Northern Pacific yacht, OffSchorr, he knew what equipment he needed to fully enjoy the cruising he planned.
After talking to a well respected boat builder at the Miami Boat Show, he decided on WESMAR. He has WESMAR sonar for navigation and sport fishing; a WESMAR bow thruster for docking andmaneuvering; and a WESMAR roll fin stabilizer for comfort. They have been wise choices.
Providing the most comfort of all, are the WESMAR Stabilizers. "I won't go long range without the stabilizers," they are a necessity says Captain Schorr, and traveling the glacial waters of Alaska makes his sonar extremely valuable as well. And the convenience and safety of the bow thrusters are well appreciated. "They all work extremely well."
'My boat is like a WESMAR demo boat. She has your stabilizers, your bow thruster and your retractable sonar. I love your products!'
Captain Schorr has piloted his beautiful motor yacht from as far south as Zihuatanejo, Mexico, to as far north as Glacier Bay, Alaska, putting 4500 hours on her the past 12 years. She is smartly appointed and comfortable inside and out with three staterooms and three heads; extra refrigerator and freezer.
She carries 2,400 gallons of fuel for a safe 1,800 mile range at 10 knots, and can also run for 600 miles at 18-20 knots if chasing fish or running from weather. She is equally at home cruising in Alaska or landing Blue Marlin in her tournament cockpit in Mexico. At 8 knots she has trans-Atlantic range.
Although boats are not Martin Schorr's livelihood; they are his passion, and he and Debbie and friends have spent countless hours of enjoyment onboard.