WESMAR EV860 Cruise Ship Sonar Working Flawlessly
407-foot cruise ship OCEAN DIAMOND utilizes WESMAR sonar as it travels Baltic and Arctic waters...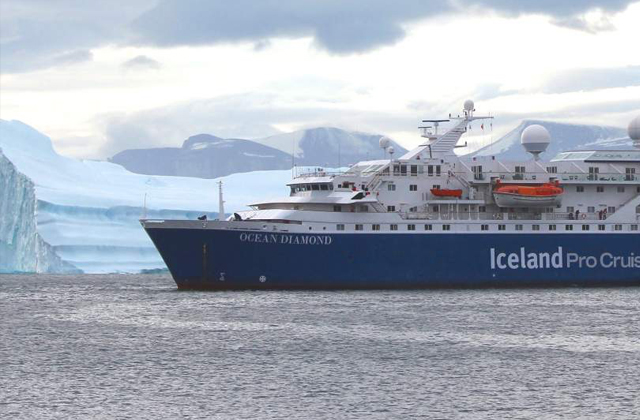 "The WESMAR worked flawlessly when navigating the channels into the harbor and the picture on the sonar screen looked good," said Captain Jorg Walczak Vice President Special Projects for International Shipping Partners. He was speaking of the WESMAR EV860 sonar on board the 407-foot cruise ship M/V OCEAN DIAMOND (formerly called LE DIAMANT).
Captain Walczek piloted the M/V OCEAN DIAMOND, through the harbor after the installation the WESMAR Navigation and Security sonar in Gdansk, Poland. "I have heard positive remarks from the vessel about the WESMAR sonar," added Captain Walczak who is a highly experienced master mariner with comprehensive management background in passenger, ferry and cargo vessel operation.
OCEAN DIAMOND will utilize the sonar, which provides the ability to scan a full 360 degrees around the vessel as well as profile the bottom underneath the ship, as it travels Baltic and Arctic waters. The system provides the ability to navigate safely into harbors and detect potential hazards while cruising, because reefs, rocks, icebergs and other possible risks such as lost shipping containers can be identified and avoided.
The OCEAN DIAMOND is the second ISP vessel to install the high- performance stabilized searchlight sonar. The 226-passenger cruise ship joins a growing fleet of vessels worldwide that have been outfitted with WESMAR sonar to increase navigational safety and security. In an industry where safety concerns are increasingly mounting, WESMAR's EV860 sonar, a system designed specifically for cruise ships and excursion vessels, incorporates precision beam stabilization for maximum range performance in especially hazardous close-to-shore and shallow-water situations.
With WESMAR's advanced EV860 technology, you can monitor the waters around your vessel for safety and security 24 hours a day. The powerful narrow beam will depict underwater from the surface to bottom in detail and at ranges never before achieved. Among its many advances is electronic beam stabilization for steady, reliable target tracking even in rough water where other sonar are inoperable.
The night watch on most vessels, anchoring in unfamiliar and potentially dangerous harbors, is limited to surveillance of surface threats, during which there is little possibility of detecting underwater hazards. The EV860 will detect and provide a sonar track of hazards, even thousands of feet away in some locations, providing early warning and time for response.
WESMAR's 50+ years of design and manufacturing has given it a leadership role in the marine industry. To the highly trained service personnel, dealers, distributors and boat owners and operators around the world, the WESMAR brand means reliable, rugged and advanced sonar systems; the highest grade bow and stern thrusters; high-powered triple axis gyro-driven roll fin stabilizer systems, and custom hydraulics.